Become an IMPACT Partner and Change Lives and Legacies Forever
Simple and secure giving. Give one-time or schedule recurring giving using the options below.
As a member of the IMPACT Partner Team, your support will allow IMPACT to serve more men and their families through:
IMPACT Breakfast Gatherings
IMPACT Coaching Cohorts
IMPACT Retreats
IMPACT Events
IMPACT Resources
Plus, we are an official 501c3 non-profit organization, so your charitable gift to IMPACT Players qualifies as a tax-deductible donation.
Check to see if your organization offers a giving match program. We are listed through Benevity, United Way and other matching sites.
GIVE BY MAIL
Would you prefer to send a check by mail? Do you have a larger gift that you would like to give without online fees? Please feel free to direct your gifts to the following address.
IMPACT Players
17815 SE 40th Pl
Bellevue, WA 98008
MEET KATIE COLE
Maximize Your Investment In 2023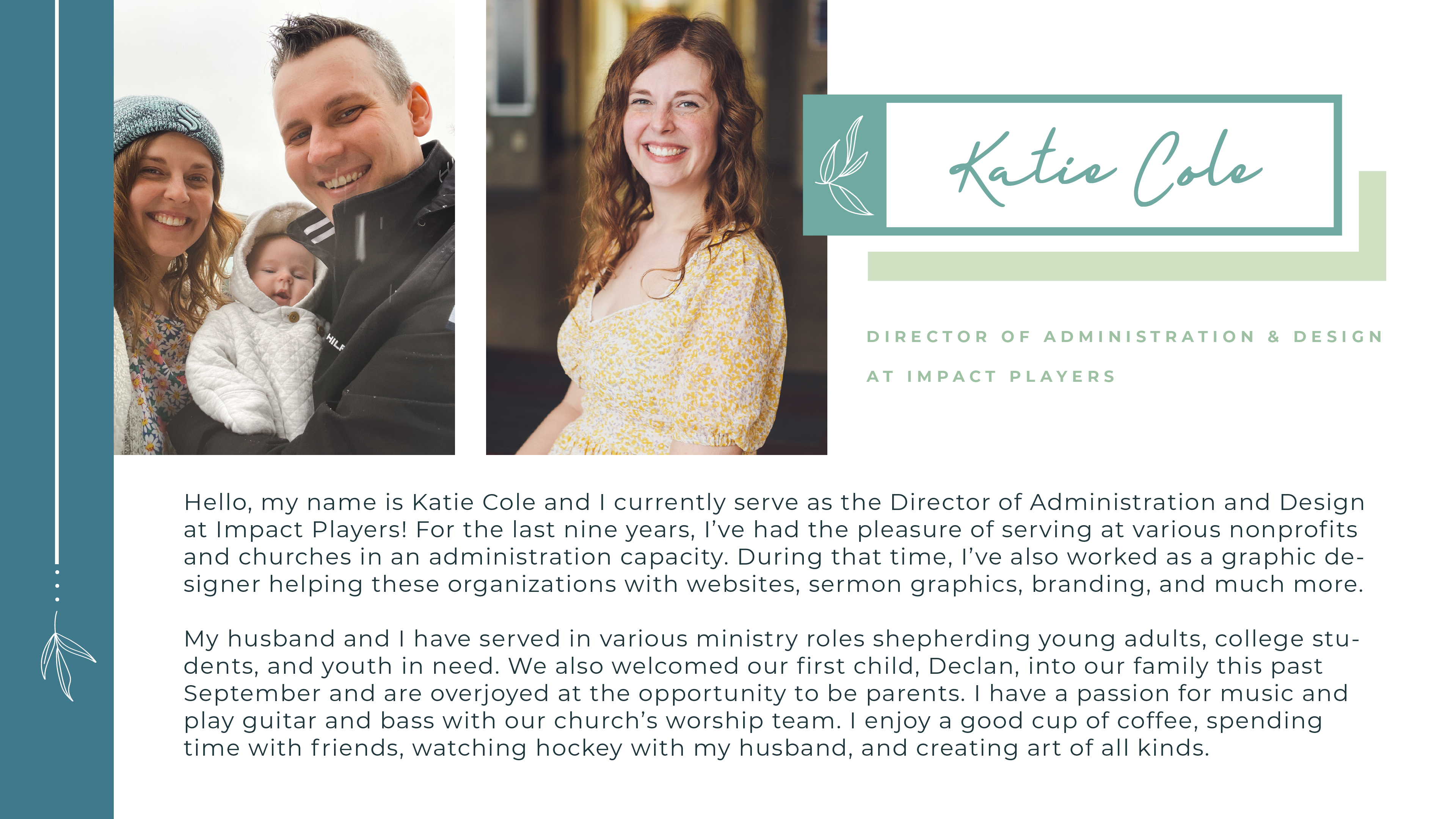 [FROM IMPACT PLAYERS EXECUTIVE DIRECTOR: WARREN MAINARD]
I have had the privilege of knowing and working with Katie for over 7 years during my time in leadership. Katie is personable, proficient, and professional in everything she does and is extremely gifted in administration and graphic design. For the past 6 months, Katie has been serving in a limited capacity for IMPACT Players while also navigating another full-time job and first-time motherhood. Recently, she and her husband Brendan (a friend and fellow IMPACT Player!) decided to transition away from their role as House Supervisors for a local ministry, which has opened the door to allow her to significantly increase her workload with IMPACT! This is a "Game Changer" for us, and we need your help to bring Katie up to 30 hours per week in 2023.
We are seeking to raise an additional $40,000 in annual support to make this possible. Simply put, an investment in this increased role for Katie Cole will-
Multiply my capacity, effectiveness, and availability to serve, coach, and equip men to be greater husbands, fathers, and leaders.
Make IMPACT Players, function more effectively, look better, be more professional, and communicate more clearly.
Help us reach thousands of men who need encouragement, equipping, and empowering resources that IMPACT Players is producing for men.
Will you prayerfully consider making a significant gift to IMPACT Players to help us move forward in our mission in 2023? If you have not joined our monthly IMPACT Givers team, please pray about how much you can invest in this work and make an IMPACT for eternity!
Magnify Christ, Multiply His Kingdom,
Warren Mainard
2021 was a year of tremendous influence and growth for IMPACT Players. Hear from men just like you share how IMPACT Players made a difference in their lives.
Download our 2020-2021 Season Report to get a glimpse of what is happening through your investment to IMPACT Players.